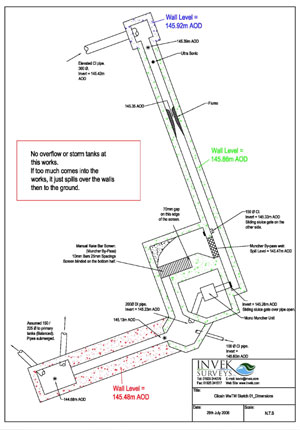 Waste Water Treatment Works Surveys
At Invek we offer the full range of Waste Water Treatment Works survey options; from a basic inlet works survey to a full works "as built".
Site connectivity can be proven throughout the site by means of dye testing, electronic probe or CCTV.
A fully dimensional survey can be carried out to obtain details of:
Inlet chambers
Channels
Overflow weirs
Storm tanks
Pipe sizes
Positions using GPS
Levels using GPS to generate invert levels etc
Mechanical & electrical devices (manufacturer and model etc)
Photographs
Information is processed in CAD to produce the relevant drawings.